The Truth Comes Out
I have a growing obsession with the band
The Butchies.
Not their music, even though it will rock the pictures right off the wall, it's that effing great. No, I'm obsessed with
them
. In a seriously-contemplating-switching-teams sort of way. I'm more attracted to these three grrls than 98% of the men in the world. I mean, look at them.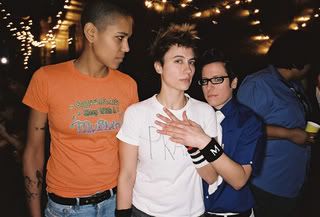 So if you need me tonight, I'll be at Schubas. In the front row. With my phone number written across my chest in lipstick.
I'm going lez.
The Butchies @ Schubas
tonight, 8 PM
$10
Listen and love my new girlfriends.
The Butchies "Huh Huh Hear"