My Lucky Number
Seven good things about this weekend:
1.
Dignity
My girls and I managed a Friday night at the Tiny Lounge that didn't end with drunken whipped cream fights and implied lesbianism. Two respectable beers each and we took our leave, sober and infinitely more boring. Sorry Mark!
2.
Free Booze
Peter has never charged me for a drink. Ever. I kind of love him.
3.
Napoleon Dynamite
The theme of a loft party Wendi and I hit on Saturday night. Sweet! Glamour Shots by Deb, a
dance off
, a skillz contest, and best of all, a very cute boy who insisted I make out with him in the corner all night. I hit the jackpot this time: he's hott AND he's in a band AND he has a job AND he has his own car. Plus, I'm a sucker for a beard. That's him on the left. Aw, isn't he cute? We have a date on Wednesday.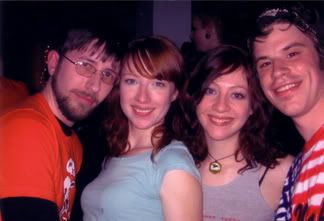 John Dynamite, me, Wendi, and Stinky Pete
4.
Markers
The message board outside the bathroom at the Napoleon Dynamite party: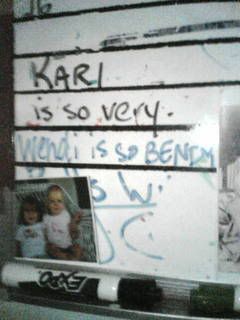 5.
Sunrise
I'm old, but every now in then it's good to stay out until the sun comes up. Especially when you can sleep til the sun goes back down again.
6.
OK Go
My new favorite band to see live. They started with my most favoritest song and ended with a lip-synched boy band dance routine that nothing short of brilliant. No one has more fun on stage than these four fine fellows, and it wasn't too bad on the audience side either. Hey, the
indie kids are learning to dance again
! A+
7.
Presidents
But not the current one. I will take the day off though. See you all tomorrow, then.