On The Wagon
Twice in the past 5 days I've gone out for "a beer or two" and wound up 110% trashed, behaving like an obnoxious ass to my poor boyfriend, picking fights, stirring up drama, and just generally making an embarrassment of myself.
It's time to straighten up and fly right.
For the next 30 days I'm on a self-imposed alcohol embargo. No beer. No wine. No gin. Especially no gin. And just for good measure, no smokes either.
I'm sick of waking up with that
Oh shit what did I do
twist of apprehension in the pit of my stomach, wishing I could take back the entire night and apologizing endlessly to a boyfriend who deserves better.
Time to do better.
* * * * *
Weekend Happenings of Note:
• I bought
a painting.
It was only $25 but the sheer shittiness of driving out to Naperville on a Saturday afternoon makes it less of a bargain. If you ever want to live in a giant mall, we can give you directions.
Concert Josh Irritation Factor:
4
• Some old dude
hit
my car
on Sunday night as we were turning into stupid dumb McDonald's. I was really really mean to the old dude, which is too bad because he turned out to be cool. And his insurance is fantastic. I have since apologized.
Concert Josh Irritation Factor:
9, since he was driving
• Stupid dumb drunk girl falls off her own shoes for no good reason and twists her ankle, dragging her boyfriend down onto the dirty alley ground.
Concert Josh Irritation Factor:
7.5
• Bears lose.
Concert Josh Irritation Factor:
10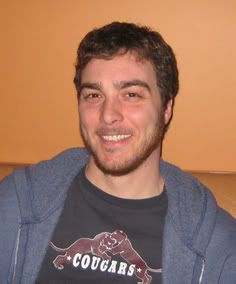 Concert Josh: Super hot, totally annoyed