Reason #549 Why I Am Uncool
Last night, I stayed up to watch the late re-run of Oprah (that would be #546) because Greg Behrendt was a guest (that I know who Greg Behrendt is? #547). See, Greg's written this little book... maybe you've heard of it?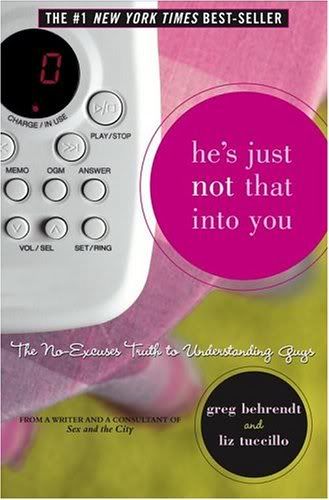 Apparently every woman in America is toting this book around in her Kate Spade purse. Oprah sleeps with it under her pillow, I'm pretty sure. That alone makes it mock-worthy, right?
Except the first thing I did this morning was order that fucking book on Amazon (#548).
See, for the past year, I've been pining away for this guy. Let's call him The Ferrari. I'm not actually
with
The Ferrari; in fact, The Ferrari is with someone else. Let's call her The Gremlin. Still, every day I half-expect to get a phone call or an email from The Ferrari saying he's ready for a trade-in ... a call or email that never comes, of course. Greg says this means something. Namely, HE'S JUST NOT THAT INTO ME.
Um, yeah, duh, right? But honest to god, I never really got it until the wise Greg spelled it out to me and the rest of Oprah's similarly-deluded minions (and there's #549). I needed to hear someone say, "Stop making excuses for him. If he wanted you, he'd be here." Again DUH, but, damn, I'm the queen of sitting around with my girlfriends and rationalizing and making excuses and trying to figure out what it "really means."
But my new best pal Oprah and I say fuck that shit. Greg thinks we can do better, and he's right. Man, I can't wait for my new book to get here.
Now, who wants to go to Kate Spade?
Thursday "yeah, you knew better" music:
Ani DiFranco "Untouchable Face"
Matthew Sweet "Sick of Myself"