The Fantastic Fourth
A wonderful weekend descended briefly into madness when the best wittle pupsie in the world turned out to be the WORST DOG ANYWHERE EVER. Non-stop barking and chewing by the Wilburbeast drove my landlord to the brink, culminating in a note on my door that said I WILL KILL AND EAT THAT DOG IF HE DOES NOT STOP BARKING RIGHT NOW. All my neighbors were totally giving me the stink eye, too. I was like, Hey you should see what he did
inside
the house, drunktards.
Appetite for Destruction
Number of holes dug in yard: 1 (but it's a biggie)
Number of consecutive hours barked on Friday night: 4
Number of consecutive hours barked on Saturday night: 4
Number of bark collars purchased on Sunday morning: 1
Number of beers purchased to mollify angry landlord: 12
Things chewed: the arms off my living room chairs, the heads off Olivia's dolls, my favorite
pair of heels
Things not chewed: new rawhide bone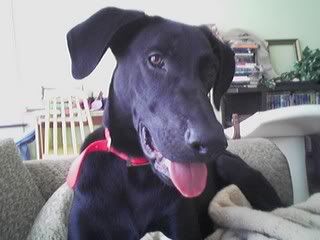 Wilbur now responds to the names of "Bad Dog,""Stupid," and "Way To Ruin My Life, Jerk"
Three Word Movie Reviews
Sin City
: gorgeous, gross, brilliant
Land of the Dead
: stupid, gross, pointless
Batman Begins
: Not sure since I couldn't watch much with two small children tearing around the theater like maniacs and screaming their dumb heads off while their mother blissfully ignored them. Oh, plus it was kind of hard to see when the girl in front of us spent half the movie putting her stupid hair up into a ponytail and then taking it back down again. But Katie Holmes has very perky nipples, so I give it two stars.
Exclusive!
After spending most of the weekend with Concert Josh and failing to get sick of him even once, my serial dating permit was officially rescinded on Monday. I am now a one-Josh woman. Of course, all the things that make me fun will probably also make me a terrible girlfriend, so who knows how long this party will last.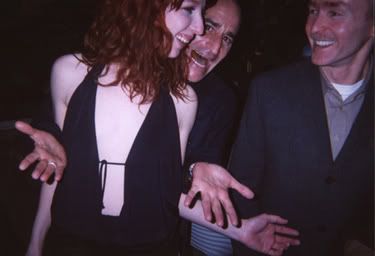 The Tequila Red Method of Asking For a Raise: not boyfriend approved