a rose by any other name would probably still be a dick
I'm going on a date tonight with Chadtastic. Judging by the emails we've exchanged, the kid is wicked smart. I'm only a teensy bit concerned that he has the same name as both my ex-husband and Wendi's evil ex-boyfriend. It could be worse, I guess. His name could be "Mark." Never trust a Mark if you know what's good for you; it can only lead to trouble. And don't even get me started on "Larry." Maybe I should see if I can call Chadtastic by his
Ghetto Name
instead.
Tick tock. 82 hours without a ciggie and this is the luckiest guy in the world: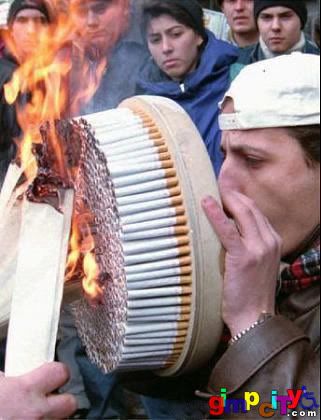 I wrote a new poem today. I hope you like it.
your skin is so smooth
between my lips
your flavor fills my mouth
you intoxicate me
my heart beats faster
i am tingling from head to toe
i cannot get enough
nothing else in the whole world matters
but you
right here
right now
this ecstasy is everything
i ever needed
i love you, nicorette

ONE MORE THING
Courtesy of
Catherine's Pita
, a new Har Mar song that will make you do the Cubicle Boogie. Here's
"DUI."