My girlfriend can outrun your girlfriend
That was one of the best shirts I saw at the Marathon yesterday, worn by an adorable boy carrying a big bunch of flowers who I briefly fantasized was my boyfriend. Then I remembered that even if I did have a boyfriend, I would never run a marathon, and therefore Fictional Boyfriend would have no reason to make up a shirt that cute and stand at the finish line with flowers and cheer for me. So I sat down on the curb and wept quietly for a little while. But then I remembered my new camera phone and I felt much better.
The Marathon was, of course, totally rad. I love those 40,000 crazy fucking lunatics, I really do. After we finished up at the water station in Boystown, Wendi and I hopped a bus to the finish line and parked ourselves at the bottom of the final stretch to cheer on the slower runners. Seeing them catch sight of the finish line was maybe the coolest part. Their reactions ran the gamut: some gritted their teeth with determination, staggering in on agonizing locked-up legs. Some smiled and high fived spectators. One guy even skipped in. Big props to every single one of them for finishing.
Here, few photos from la camera phone: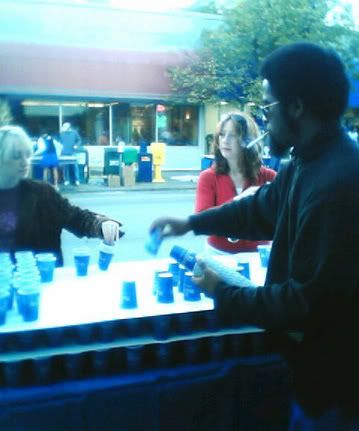 Setting up the water station. Breaux be cool like dat.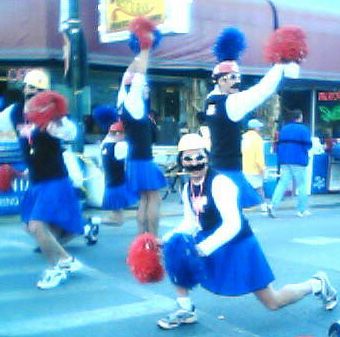 Village People meets Bring It On.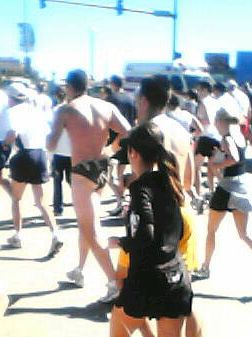 This man just ran 26 miles wearing nothing but a leopard print Speedo and a bow tie. Ballsy!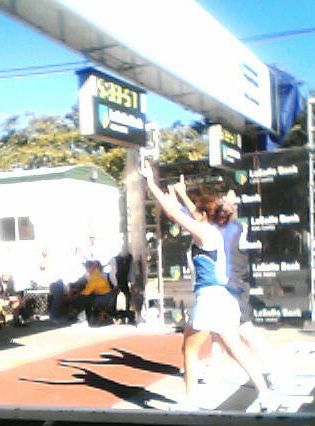 Crossing the finish line - check out their shadows.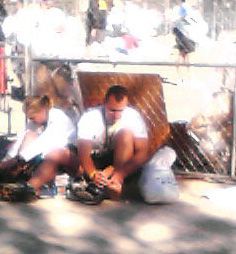 Ow. Putting band-aids on every toe.
Now listen to:
Junior Senior "Move Your Feet"
"YMCA"
Violent Femmes "Blister in the Sun"
Modest Mouse "Gravity Rides Everything"
And it's like you were there. Ta da!