Attagirl
After nine whole minutes of pushing (wtf?), my sister Amy gave birth to a healthy baby girl early Tuesday morning. We're still waiting on pictures of Micaela Bonnie but I hear she's beautiful. Did I mention that the entire birthing process took less than two hours? Good thing I'm not the bitter type.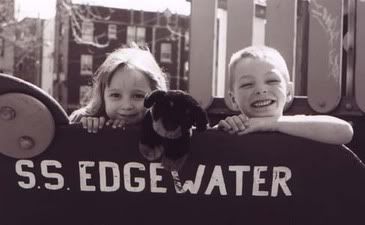 20 and 53 hours of labor, respectively
♥ Nothing says "congratulations" like a little
Stevie Wonder
. ♥
* * * * * * *
Mambo Tango
My current obsession:
Che Guevara
. Because have you seen The Motorcycle Diaries yet? Ay, what a movie. I've watched it three times since Friday and I love him a little more with each viewing. I freely admit that I only know the broad strokes of his life - communist, revolutionary, the hottness of Gael García Bernal - so I'm picking up his
biography
at the liberry today. Also, someone please buy me this shirt so I can have Che on my chesteses, and then let's go see Dot the I. Bueno.
* * * * * * *
The More Things Stay the Same
Thank goodness you can count on the Catholic Church to carry on the long-standing tradition of complete inflexibility. Way to elect the most conservative Pope possible, dudes. Yeah, I know, a younger more moderate Pope might have tried something crazy, like bringing alienated Catholics back into the fold, relaxing the Church's stance on birth control, denouncing bigotry, or - gasp! - allowing women in the priesthood. But, hey, here's hoping (poping?) PapaRatzie surprises us all.
The election of Cardinal Ratzinger met with particular disapproval among the second grade set, who deemed him "totally scary looking" and then cried.
* * * * * * *
M is for Mmm-Mmm Good
Tonight I'm going with Wendi and one of our Protest Pals to see M. Ward at the Abbey. No, Fredbeck, you aren't invited, and yes, I'm still mad at you for ditching me on Saturday. Good thing I had a fantazmo time with my
real
friends, the people I sometimes run into at Decibully concerts (Hi Todd!). Plus, the lead singer B.J. sang every song directly to me, which EEEEEEEE! Have a wonderful time in Europe, boys! Mwah!
Oh, and forget what I said before - their new disk does indeed rockit. Buy it
here
and you'll get a free Polyvinyl compilation CD featuring tasty aural treats by Ida, Of Montreal, matt pond PA, Owen, Saturday Looks Good To Me and other scrumptious bands. Free is good. I love free.
4/20 Mix for Dopers and Popers
M. Ward -
"Helicopter"
"Sunday Bell"
- Audible Sky Signal
Saturday Looks Good To Me -
"The Goods"
Owen -
"The Girl's Distracted"