Well That Wasn't So Bad
I covered roughly 800 miles this weekend, crossing state lines between Michigan, Ohio, Indiana, Michigan, Indiana and Illinois in just one day, spent time at church AND amusement park - two of my least favorite places - and somehow it all managed to be ... fun. I know! But rilly!
First of all, contrary to speculation the church did NOT burst into flames the moment I stepped inside. My sis wisely gave me a camera and put me to work, so I bopped around snapping pics and amusing myself with an internal dialogue that went something like: "That's it, Padre ... work it, work it... Now show me 'holy'!"
The Bons is the cutest, fattest, most adorable newly Christian sumo wrestler in the universe.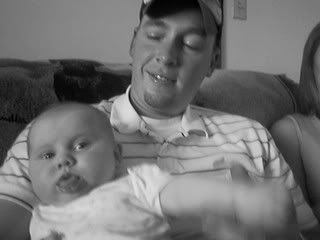 with The Godfather
Sunday was Cedar Point day, and I have to tell you, that park beats the craps out of Great America. In fact, Cedar Points sits on top of Great America on the playground and rubs its face into the asphalt before stealing its lunch money. The rides are bigger, faster and scarier. The lines are way shorter. Even the patrons are more attractive. The only bad part was when we were on the Mean Streak and the teenage boy in front of us went into a seizure. His friends and the college kids running the ride were so freaked out by it that I somehow ended up being the Designated Grown Up In Charge. "Call the paramedics. Don't move him. He's breathing. He'll be okay." Then I crouched down next to him, speaking in comforting tones until the paramedics arrived. As we walked away one of the kids working there said, "I'm so glad you were here. You must be a nurse or something." I patted his arm and decided not to tell him I work in advertising.
Smooth Segue
The last place I was when someone had a seizure right by me was an Old 97's show. And I don't know if you've heard, but a few of
us
are going to be extras in a movie scene with the Old 97's on Wednesday. Did you hear about that? Yeah, I'm a little excited. Just a little. I think some
other chick
will be there too, I don't know. Whatever. I'll probably spend the next 36 hours getting into character.
I'm an Old 97's fan. I'm at a show. Rhett is sweating. Rhett is singing. Rhett is doing that spinny thing with his arm. Don't look at the camera. Look at Rhett. Yummy, yummy Rhett. Mmm.
I'm sorry, what? Oh yes, the movie. Right. So the movie is Wednesday, and Rhett will be there. That's all you need to know.
In Briefs
Concert Josh Buys Fancy Sheets
New girlfriend huge harpy about thread count
Writer Having Trouble With Commercial for Boxing Legend
George Foreman never bit off ears or ate children; grill thing totally boring
Frosting, PBR Consumed For Dinner
Co-workers really need to keep better stuff in fridge