and now, on to the happy
Congratulations Chris and Amy!
It's an awesome responsibility, being a parent. Molding a young mind is something you can never take lightly. Trust someone who knows.
baby's first and last visit with the Easter Bunny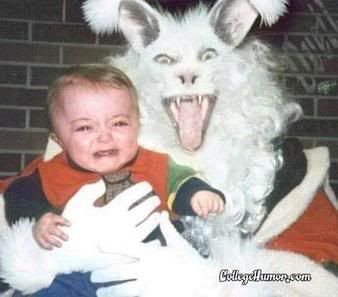 good luck.
* * * * *
John Kerry is ahead of Bush in some of my favorite
polls!
* * * * *
Hey, why did the Reader change it from "Missed Connections" to "I Saw You"? How retardoed.
* * * * *
best website ever
Ulli's Roy Orbison in Cling-film site.
Exactly what it sounds like, except even better.
Hello, and welcome to my homepage. My name is Ulrich Haarbürste and I like to write stories about Roy Orbison being wrapped up in cling-film. If you have written any stories about Roy being completely wrapped in clingfilm please send them to me and I may put them up on the site. If you have a site with stories about other pop stars being wrapped in cling-film mail me and we can exchange links.
* * * * *
A movie and a smoke and a smoke: Harold and Kumar Go to White Castle is at the Brew this week. Who's in?
* * * * *
Just because I love you:
Tullycraft "Twee"