Fredbeck does his best impression of a serial killer
Seeing Decibully is probably a little like it must have been to see Death Cab back in 1997, or Uncle Tupelo in '86. Small club, small crowd, and you feel like you're the only ones in on this enormous, fantastic secret.
"Tables Turn"
is one of my favoritest songs ever, and some of the new stuff they played last night is gonna be right up there, you can tell. On one new song, my Yummy Bearded Keyboard Dude played the accordion and I nearly passed out with lust. Accordion players are our precious. We loves our precious, we do, we do.
The opening band,
Shearwater
, was a perfect warm up, too. Halfway through their very pretty, dreamy first number, the violinist suddenly leapt up and slashed out this violent and utterly rocking solo, scaring the bejeezus out of everyone in the room. Startled hipsters = comedy gold.
On our way out, Wendi, Fredbeck & I popped into the photobooth and what came out was this:

I'm not sure what's going on in the second picture, but I'm open to guesses.
* * * * *
Check out my
Mr. Picassohead
and then
make your own
.
* * * * *
Yesterday's Tall Drink of Hottness thinks I am cute also and we are definitely going on a date. (NOTE TO SELF: EEEEEEEEEEEEEEEE!!!!!!!!!) As always, I will keep you posted on further developments. Especially if they should involve nookie.
* * * * *
Happy National S-S-S-S-Stuttering Awareness Day, everybody!
* * * * *
More Vegas wedding p-p-pics are now
here,
courtesy of Wendi. I love this one of my parents.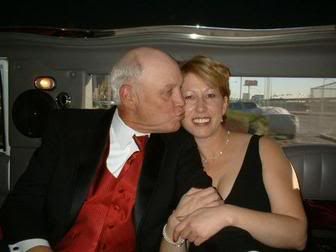 Aw.