Puppy Power
$400 and 2 vet trips later, Maizy and Wilbur seem to be getting stronger. They're playful and adorable and I rilly rilly rilly want to keep em. Aw, Mom, can I?! Huh? Can I, pretty please? Look, you'd have to have a heart of stone to be able to resist this: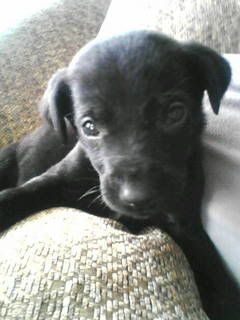 Dewey the Giant Asscat, on the other hand, is horrified by the entire situation. He's got 20 pounds on the little dudes but they still scare him silly. Maizy wandered into his territory last night and he knocked her across the room with his claws. Jag.
So my babies are home alone today (locked safely away in the living room) (I hope) for the first time since Sunday, and I'm a bit anxious. Lunch today will involve a train hop to the homestead, I think, for food and cuddles.
Speaking of cuddles (I hope, some more), I have a date tonight with
the Tall Drink of Hottness
. It's been a while since I've had butterflies before a date, which I will interpret as a good sign. His phone voice is totally rowr.
The Ferrari leaves for LA in 5 days. Not that anyone's counting.