Strange Things Are Afoot at the Circle K
Finally!
Keanu
gets a star
on the Hollywood Walk of Fame. (via
Defamer
)
Most Excellent!
Coming soon: stars for Skeet "You Mean That's
Not
Johnny Depp?" Ulrich, Dustin "Stop Calling Me Screech" Diamond, and The Rock.
* * * * * *
Pitchfork's semi-favorable-for-them
review
of the debut record by local rocker boys
Chin Up Chin Up
(released in friggin October - way to be timely, PF) posted today. I saw CUCU when they opened for AmAnSet last year and totally dug their lush, surreal sound. Check out a
couple
of
tracks
from the album, and come see them with me on Feb 19 or Feb 20, yes yes?
* * * * * *
You: Wearing red. Me: Turned on!
There are right and wrong times to pick someone up. Which do you think this falls under?

Giant Rollover 2 Car Accident on I-88 - you were the EMT - w4m - 26
------------------------------------------------------------------------
Reply to: anon-57941011@craigslist.org
Date: 2005-02-01, 9:06AM CST

I wasn't going to stop since I saw your pickup with FF plates and figured that you'd have already called the accident in and handled the injured. I figured that with an accident like that, however, you might have needed some help.

I mean, that accident looked... horrific. I couldn't believe that both passengers just walked away from that.

You were just getting off of work, and work as a paramedic or EMT.

I was an EMT in a past life.

You're really really cute. And funny. And freezing.

As an aside: I was heading to my parents because I was upset about being laid off from my job. When I saw that accident, I realized I really don't have jack shit to complain about. Life, as they say, could always be worse. I'm glad that everyone looked like they were okay.
* * * * * *
My new favorite shirt. Thrifted in the great city of Elkhart, IN for all of 75 cents.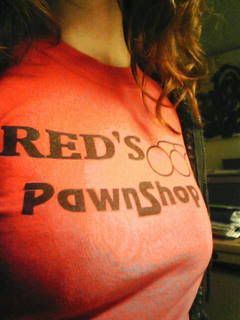 Okay. You can stop staring at my chest now, perv.
* * * * * *
Ya think?
Page Six
continues with the hallowed tradition of stating the completely fucking obvious:
HARD TO STOMACH

BAI Ling shocked audiences at the Rotterdam Film Festival with her new short, "Dumplings." The sexy Chinese actress plays a Hong Kong woman who serves dumplings made from aborted fetuses to rich women hoping to regain their youth. One bloody scene involving a pregnant schoolgirl proved especially disturbing to young viewers at a late-night screening, reports The Post's V.A. Musetto.
P.S. Bai Ling so nasty.
* * * * * *
So Much For That
Saw my Train Boyfriend finally last night. Naturally, I buried my face in a book and hid at the end of the platform to avoid him. Because I'm stoopid that way.