The Best $5 I Ever Spent
Last fall, I bought a pair of Chanel knockoff sunglasses from a street vendor in Vegas. They're oversized Olsen Twins Sunglasses of Hugeness and they are magical. No lie:
magic
. When I put these puppies on, wonderful things happen. Twice in the past week, a random dude has offered me his seat on the train for no apparent reason. [Feminist Tequila Red: "I'll stand, but thanks anyway." Lazy Tequila Red: "Woman, sit down before I slap your face off."] I slip these glasses on and suddenly men are opening doors and holding elevators, bus drivers wave me on for free, the kids behind the counter at Mickey D's pack my Filet-O-Fish with a certain reverence. I get double-takes on Michigan Avenue, and miscellaneous strangers flash friendly smiles. It's like walking around inside a Disney commercial.
If I ever get mugged I'll happily hand over my debit card, my cell phone and my car keys. But you ain't getting these sunglasses without a fight.
MK rocks the shades
- Fug Boyfriend sold separate -
* * * * * *
Confidential to Sugar:
I got flowers at work this week and they're from a girl! Phase one of Plan Lezbionic is complete.
xox,
TR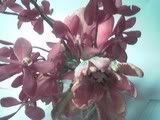 flowers of pride - pretty!