Commutercize
And the Multitasker of the Day Award goes to...
the woman doing aerobics high kicks while waiting for the Irving Park bus. Congratulations, crazy lady!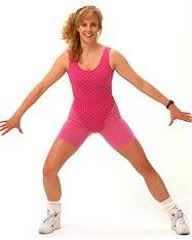 Sure I'm late for work, but check out these thighs!
CTA Buns of Steel Playlist
"Sister Saviour"
- The Rapture
M.I.A.
"Galang"
"The Power is On"
- Go! Team
"Let's Go Bang"
- Jen Love Hewitt (special for Wendi)
"Cameltoe"
- Fannypack