Miss Scarlett
Let me just preface this by saying: no one cares about this except me.
My hair is now insanely red. Like magenta-placenta-red. R-E-Double-D. It's pretty hot. You can't really tell by this photo, but I like it so I'm posting it anyway.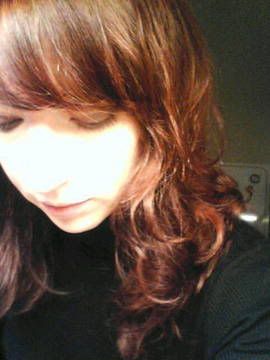 The Other Thing
Seats are still open on the
Counter-Inaugural Bus
. Let's go!
Songs You'll Like Even If You Never Listen to the Songs I Post:
"Left and Leaving,"
the Weakerthans - the song is flat out awesome and no, it doesn't remind me of anyone I know, not at all, so stow it
The Shins,
"So Says I"
- my fantabulous new ring tone, be prepared to chair dance
"Ladyfingers"
by Luscious Jackson - a classic for all my grrlz
The Hold Steady,
"Most People Are DJs"
- not for everyone, but different and weird and cool and I totally heart Craig, the lead singer
Now leave me alone. I have work to do.