Breakfast of Champions
Best way to start the day: mimosas, fruit-topped goat cheese and shortbread cookies. I love you, Friday.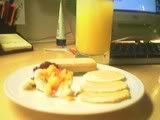 * * * * * *
On The Short Bus
Memo to whoever found my blog
this way:
I do not appreciate it.
Date Recap
Wayne Coyne
is crazy, Concert Josh is cool,
$4 pizzas
are friggin' enormous.
Already?
I may have put too much champagne in the mimosas. I'm typing funny.