It's All About Me
» I have 39 cents in my bank account. Today is Tuesday. Payday is Friday. Currently working on "Will blog for food" cardboard sign and thinking of things to sell on Craigslist. (cat?)
» Apparently I developed allergies at some point in the last 24 hours. Breathing is now known as "that fun thing I used to do."
» I just laughed for 15 minutes straight at the whole
Renee Zelleweger-Kenny Chesney wedding thing
. Those wacky celebs! Their crazyass love lives! P.S. Damien, call me!
» I wonder who is reading my blog in Australia.
» That dead bat I saw on the sidewalk on the way home yesterday inspired some seriously effed up, Cujo-rrific nightmares later on.
Rabieeeee-eeeeeee-eeeeees!
» I like
this T&S mash up
on
stereogum
a whole lot better than the original.
» I can only think of
31 Things
.
» I could wander around this guy's
photo blog
all day long. His friend
Bill
is super hot.
» House of Wax was pretty much the worst $9 I ever spent.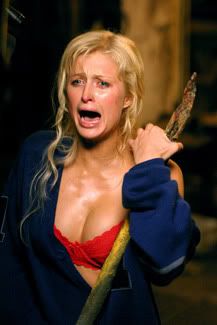 I feel ya, girl.
» Sometimes I really don't feel like writing in this blog. This is one of those times. Can you tell?