Reverse! Reverse!
My cousin got married on a hilltop in northern Michigan this Saturday. It was a lovely wedding, and I'm pretty sure her new husband's family is still wondering what the hell they've gotten themselves into. His family: incredibly polite, well-dressed, god-fearing Latinos. Our family: tried to start the wave at the end of the ceremony.
For the most part the two sides kept to themselves, but in a moment I'll always cherish, the groom's father stopped by my table just before leaving. He squeezed my hand and gave me a warm smile. "I just want to tell you, we very much enjoy your dancing tonight. You move beautifully."
It's okay, I'll wait for you to stop laughing.
Done now? No, that's all right. I understand. Anyone else and it
would
have been sarcasm, or maybe a bit too much off the keg. But we're talking about a man of the cloth here, people. A real, bona fide Reverend. If he says he enjoyed my dancing, then by god HE ENJOYED MY DANCING.
I only wish I knew which dance he liked so much. Was it the Hokey Pokey? The Funky Chicken?
The Cha Cha Slide
? That dramatic rendition of
"Paradise By The Dashboard Light"
? Sadly, we will never know.
But the smart money's on Meatloaf.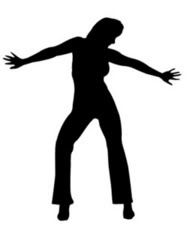 Nobody puts Tequila in the corner
... after six beers and two pieces of cake.