In the Hood
I live in a really great Chicago neighborhood: leafy tree-lined streets, an outstanding school, and friendly folks who only occasionally piss me off with their non-parking non-skillz (HINT: one car only requires ONE SPACE, stupidhead). But no matter how tranquil everyday life can seem, it's important not to forget that this is still the Big Bad City. Sometimes you need a gentle reminder. See Exhibits A & B: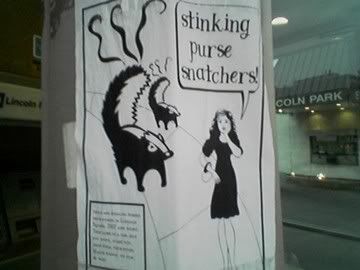 This says that some jag is sitting in his car, waiting for women to walk by alone, then chasing them, stealing their purses, knocking them down and driving off.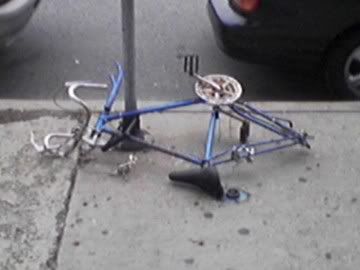 This says that somebody needed some extra parts for their bike. Like all of them.
I passed both this morning on my way to the train. Other bad things that have happened on this street include a crazy man running up and punching me in the head, some thug trying to carjack me at gunpoint, and the worst $10 haircut in follicular history. (Confidential to Supercuts: thanks for NOTHING, drunktards.)
* * * * * *
Stick a Fork In It, Perry Ferrell
Everyone's least favoritest local music snots, the moppets at
Pitchfork
, somewhat redeemed themselves yesterday by revealing an indie-licious line up for their Intonation Music Fest. So I've decided to channel the money I was going to spend on a Lollapalooza ticket into a two-day Intonation pass instead, which leaves me with approximately $78 leftover in beer funds. Sweet!

SATURDAY, JULY 16, 2005
Tortoise / Death From Above 1979 / The Go! Team / Broken Social Scene / Four Tet / Magnolia Electric Company / AC Newman / Beans Featuring The Holy Fuck / The M's / Head of Femur

Intonation Music Festival
SUNDAY, JULY 17, 2005
The Decemberists / Les Savy Fav / The Wrens / Deerhoof / Andrew Bird / Out Hud / Xiu Xiu / Dungen
Advance tickets go on sale
here
tomorrow at noon. Who's in?
* * * * * *
Best Google Search On My Referral Logs Right Now
james+spader+cuddles+with+man
If someone could pls send me that picture right away, I'd be most appreciative. Thanks.
* * * * * *
ZZZZZZZ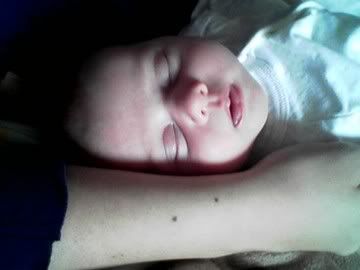 baby Micaela thought this entire post was a total snooze
UPDATE: people who like cute babies, click
here.