So Infantile
Happy Hour came to an untimely end on Friday when
Sugar
and I let it get a little too bizarro for my nice normal co-workers.
SUGAR:
You know, the thing that really burns me about that guy is he thinks he's so
superior
. It's like, hey, I wasn't born yesterday.
TEQUILA RED:
Hi, I was born 5 minutes ago!
SUGAR:
Heh. I was born just now in the bathroom!
TEQUILA RED:
I was just born in the bathroom at the prom! I'm a prom fetus!
SUGAR:
Ha ha!
TEQUILA RED:
Hee hee!
SUGAR:
"Prom fetus"!
TEQUILA RED:
I know!
SUGAR:
HA HA HA HA.
TEQUILA RED:
HA HA HA HA HA.
SUGAR & TEQUILA RED:
HA HA HA HAAAAAAAAAAAAA!
CO-WORKERS:
CHECK PLEASE.
The fetus faux pas occured approximately 2 margaritas into the evening, much earlier than usual.
* * * * * * *
More Weekend News:
Sister Shows Off Absolutely Adorable Baby
Camera-Phone's Failure to Charge Last Night Bitter Disappointment
Pictures forthcoming, family peeps.
* * * * * * *
Redheadz Rawk
As I may have mentioned
once
or
twice
before, I am madly in love with Jenny Lewis. I adore everyone in
Rilo Kiley
but I want to BE Jenny Lewis. Tonight they play a sold out show at the Metro, which means I'll be spending the next several hours constantly refreshing the tickets page of Craigslist. Stupid every paper in Chicago, stop telling the whole world to go to this show.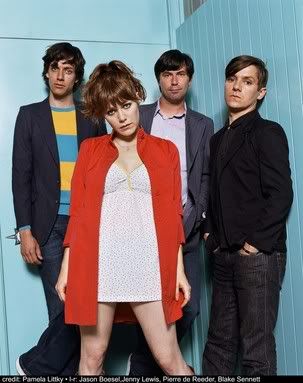 Two Rilo Kiley songs Are Better Than One:
1.
"A Better Son/Daughter"
2.
"Does He Love You?"