12 Hour Party People
You have no one to blame but yourself if you missed Wendi's Sayonara Shindig on Saturday night, and if I were you I'd get right on that. Because,
dang
, that was fun.
Special thanks to:
• Crystal, for showing up with her usual Party Posse in tow, including her foxy boyfriend James and her ultracool cousin Conrad, two of my most favoritest people. Thanks for - as Romy put it - "bringing the color."
• Mark, the best/hottest bartender/singer in the city, for showing up despite working til 3 am, and then going for beverage reinforcements.
• Concert Josh, for being totally at ease at a party where he knew exactly one person, and looking fine as hell in a tight tee shirt. Also for not throwing up or running away every time I called him "my new boyfriend" because I
call
everybody
my
boyfriend.
• Salome, for thinking of of Drunken
Taboo
• Miss
Michelle
, for coming all the way down from Madtown to be the Apartment Smoking Police. "No no NO! No SMOKING in the HOUSE. I don't CARE if you LIVE HERE. Think of the CHILDREN!!"
• My neighbors, for calling the real live actual police on us. It ain't a party til the cops come.
• Orange Shirt Guy, for throwing some sweet moves on the patio dancefloor.
• Matt, for bringing Orange Shirt Guy, and for finally getting his ass in gear and making out with the guest of honor. ABOUT TIME.
• 
Justin Breaux
for never, ever being boring or wrong.
• Every single person who showed up, especially those who showed up with booze.
• Every single person who was still there at 6:30 am when we pooled our cash together for an early morning cigarette run and then lolled around on the front lawn like puppies, demanding random passersby take pictures of us.
• Every single person who was still there at noon and helped clean up my nazzzty house.
•
My sister
, for being generally awesome. And for buying me breakfast.
There's Some Blood In My Alcohol Stream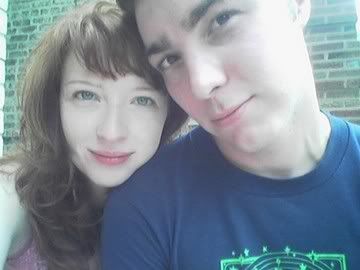 Hungover on Sunday afternoon, and Concert Josh is wearing my shirt.
Party pics to come.